Details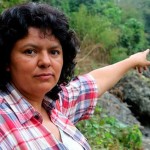 The mastermind behind the crime has been identified by an NGO,  Grupo Asesor Internacional de Personas Expertas (GAIPE). Through public records, GAIPE obtained text messages, phone records, emails, photos, and other evidence that the planning, execution, and subsequent cover up of Berta's murder began in November 2015, and identified the role played by DESA (the company developing the Agua Zarca dam project), by the Honduran government, and by the banks financing the Agua Zarca dam all had a role to play in the death of Berta Cáceres.
Details

Thirty Indonesian NGOs have sent a letter to twenty banks in China and Europe calling on them to divest from APRIL and its related companies. In 2015, after a long history of rainforest distraction and community rights abuses, APRIL announced a new commitment. Since then the company has failed at proper implementation. Its suppliers were caught several times violating Indonesian regulations, leading the government to recently suspend its working plan. After years of frustration and a lack of integrity by the company, the only two remaining NGOs have now left the APRIL sustainability advisory committee.
Details
Europe's highest court has ordered Poland to stop logging immediately in its primeval Bialowieza forest. It includes one of the largest surviving parts of a forest that covered the European plain about 10,000 years ago. Poland now faces 100,000 euros a day fine if it continues logging in forest, a UNESCO World Heritage site.
Details

A colossal project: transform vast areas of Africa into plantations for paper production. t looks like an old colonial dream in the hearth Mozambique, but it's today's story. Behind it there is the Portuguese 'The Navigator Company' and its local subsidiary Portucel Mozambique. Local NGOs monitoring the impacts of this land acquisition are deeply concerned about the impacts on local livelihoods and on biodiversity.The project already created vast impacts, with local farmers forced to give up their land, now struggling to find means of life. 
Details
Geologists just discovered 260-million year old forests in Antarctica. And they could provide a glimpse into a climate-changing future. Antarctica wasn't always a barren and largely uninhabitable landscape of snow and ice. Almost 260 million years ago, the world's coldest and driest continent was awash with lush, thriving forests -- and a group of geologists have just found one.