Details

The region of Pedrogao Grande, 160km north of Lisbon, is burning, with at least 62 victis. Flames, driven by a strong dry wind, expand along the eucalyptus and pine plantations without finding obstacles, indeed fuelled by the dry soil and the abundance of died wood.
Details
E
The 300,000 hectare Bialowieza forest on the border between Poland and Belarus is one of Europe's most important nature conservation areas and has been a UNESCO World Natural Heritage Site since 1979. This former hunting ground of the Russian tsars is today home to 900 European bisons, elks, wolves, lynx and deer. With more than 250 bird species, 59 mammals and over 12,000 invertebrates, Bialowieza is one of Central Europe's biodiversity centres, attracting tourists from all over the world.
Details

Russia forests face 66 forest fires. The greatest number of forest fires occurred in the Trans-Baikal region. The Khabarovsk Region's Forestry Department said that ten fires covering 11,400 hectares had been detected in a remote area, which were yet to be tackled. In Buryatia its gone to some 500 hectares, in Tuva 200 hectares have been scorched, and in the TransBaikal Region slightly more than 100 hectares were burnt. Minor wildfires are being reported from the Tomsk region (80 hectares). 
Details

A recent 
violent attack
 on a group of indigenous people in the Amazon rainforest of northern Brazil is seen by environmentalists as a symptom of a new climate of hostility towards such groups, fuelled by conservative congressmen's attempts to undermine land rights. Among the injured, five were shot and two had their hands severed. The attack, by farmers armed with guns, knives and machetes in the northern state of Maranhão left up to 13 Gamela Indians in hospital with bullet and knife wounds. The attack is part of a disturbing trend in Brazil that indirectly threatens the preservation of large areas of the Amazon rainforest.
Details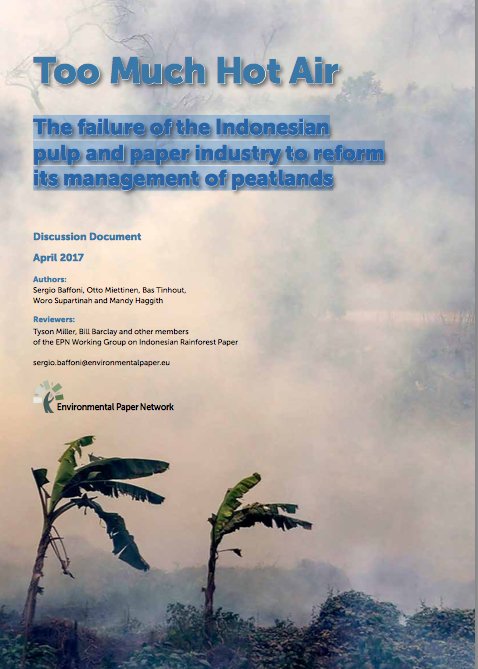 A new report 'Too Much Hot Air', details the shocking climate change impacts of the Indonesian pulp and paper industry through damage to peatlands, and highlights solutions in the form of 'paludiculture', with examples of good practice from local communities. The report is a discussion document, and it concludes with questions about we can move to a more sustainable future for Indonesian peatlands.