Illegal logging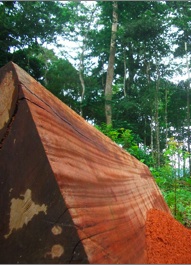 Illegal logging is one of the main causes of deforestation and causes considerable environmental damage and biodiversity loss. It has serious implications for climate change, often ignores the rights of indigenous people, and make forests more vulnerable to fires. 
Illegal logging is the harvest, transportation, purchase or sale of timber in violation of laws. The harvesting procedure itself may be illegal, including using corrupt means to gain access to forests; extraction without permission or from a protected area; the cutting of protected species; or the extraction of timber in excess of agreed limits.
According to OSCE, illegal logging imoves around 150 billion USD annually. It is estimated that illegal logging in public lands alone causes losses in assets and revenue in excess of 10 billion USD annually.
A significant proportion of timber from certain countries currently sold in the EU is thought to come from illegal sources.
Illegal logging contributes to deforestation and by extension global warming, causes loss of biodiversity and undermines the rule of law. These illegal activities undermine responsible forest management, encourage corruption and tax evasion and reduce the income of the producer countries, further limiting the resources producer countries can invest in sustainable development. Illegal logging has serious economic and social implications for the poor and disadvantaged. Furthermore, the illegal trade of forest resources undermines international security, and is frequently associated with corruption, money laundering, organized crime, human rights abuses and, in some cases, violent conflict. In the forestry sector, cheap imports of illegal timber and forest products, together with the non-compliance of some economic players with basic social and environmental standards, destabilise international market
With illegal and destructive logging, food supplies are gone and sacred sights are damaged. Rivers and streams become muddied and polluted, killing local reefs and fish stocks. People suffer violence and abuse. New diseases spread and the medicines, which once protected people from illness, are lost. The traditional ceremonies, skills and way of life are disrupted. Communities' subsistence lifestyle supported by the forest for thousands of years turns to poverty overnight.
Details

The Croatian Ministry of Agriculture issued a decree on a two-year ban on the exports of oak logs, The main reason is that the oak trees have been infested by the bark beetle in as many as 14 Croatian counties. Unofficially, this is one of measures to halt the enormous outflow of raw materials from Croatia to the EU countries, the Croatian media reported. 
Details

First Sweden then Denmark and now the UK Timber Trade Federation (TTF) have warned importers they could be in contravention of the EUTR if they import teak from Myanmar. The UK TTF has gone further and called for EU wide action. 
According to NepCon, a Danish non-profit organisation, the Danish Competent Authority asked seven local companies to strengthen their due diligence systems if they wish to continue to market Myanmar teak in the EU. NepCon says Danish authorities audited some companies that had imported teak from Myanmar after being alerted to allegations by the Environmental Investigation Agency. The Danish authorities concluded that the system in place in all seven companies was not robust enough to demonstrate a negligible risk of illegality. This, once again, raises questions on whether it is currently possible for importers of timber from Myanmar to satisfy the EU Timber Regulation. 
Details
The Netherlands issued a fine to the company Fibois VB Purmerend after finding that documentation was not in order for timber imported from Cameroon. Therefore the company could not meet the  due diligence requirement required by the illegal logging legislation (EUTR). The Dutch Competent Authority issued a non-compliance penalty of EUR 1800 per cubic meter of timber placed on the market until correct due diligence could be undertaken. The company had been issued a warning, stating that it had had enough time to improve its practice. Among other sources, Fibois imports from CCT, a company which Greenpeace revealed to be involved in illegal logging.
Details

Forest Stewardship Council (FSC) dissociated from the Austrian timber trader Holzindustrie Schweighofer ( one of largest in Europe) because of its involvement in illegal logging in Romania. FSC's investigation was prompted by a WWF complaint following an investigation by the Environmental Investigation Agency (EIA). The company is involved in illegal timber trade is contradictory to FSC's objectives (e.g. to exclude illegal logging and trade).
Details

A scathing investigation report released by the Forest Stewardship Council (FSC) details systematic illegal timber sourcing by one of Europe's largest timber processors, the Austrian firm Holzindustrie Schweighofer. FSC's 110-page report, produced by a panel of experts over nearly one year, states that Schweighofer "developed a culture" that incentivized illegal timber sourcing by putting cheap wood above legality in their sourcing of logs in Romania. FSC's Board of Directors refused to accept the panel's recommendation that Schweighofer lose its FSC status, instead putting the company on a three-month probation which allows products to continue to be sold under the FSC label.