Details

A new
report
 Reveals Asia Pulp & Paper (APP) is involved in hundreds of conflicts with local communities as haze crisis in Indonesia intensifies. APP have been  found to be one of the companies responsible for forest fires in Indonesia; NGOs call on APP to uphold it's promises for both communities and forests. 
The report
conducted by a coalition of Indonesian organizations and the Environmental Paper Network has found that Asia Paper & Pulp (APP), one of the world's largest pulp and paper companies, is involved in
hundreds of conflicts
with communities across the Indonesian islands of Sumatra and Borneo.
Details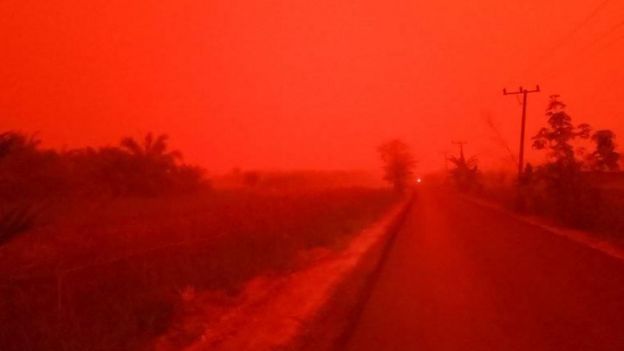 Red is the sky, red is the earth. While smoke from forest fires in Indonesia often simply obscures visibility with a choking haze, parts of Sumatra island recently witnessed blood red skies due to the interaction of sunlight on particles from smoke in the air. A glowing red sky is seen in Kumpeh District in Muaro Jambi Regency, Indonesia in this still image obtained from a September 21, 2019 social media video. The images have been shot by a local student, Muhammad Dani, and they have not been manipulated.
Details
While continuing the assault on the Amazon led by incumbent President Bolsonaro, who beheaded the environmental agency and paralyzed the indigenous agency Funai. And so, feeling protected and unpunished, farmers and cattle ranchers started to burn in the forest to expand pastures and plantations, they even called a "fire day". The result is the destruction of 1,700.8 square kilometers (657 square miles) of forest in August alone, three times that of the previous government. As promised by the president the first are unpunished: none of the 2,539 lawsuits for the fires ended with a conviction.
Details
After Siberia and the Amazon, also the Congo Basin is now burning. Whiles governments across the world, the United Nations and environmental conservation groups continue to pile pressure on authorities to combat the fire, records by NASA indicated that two African countries were suffering more fire outbreaks than Brazil was: 6,902 fires in Angola, compared to 3,395 in the Democratic Republic of Congo and 2,127 in Brazil.
Details
The Brazilian president, Jair Bolsonaro, has accused environmental groups of setting fires in the Amazon as he tries to deflect growing international criticism of his failure to protect the world's biggest rainforest. A surge of fires in several Amazonian states this month followed reports that farmers were feeling emboldened to clear land for crop fields and cattle ranches because the new Brazilian government was keen to open up the region to economic activity. Brazil has had more than 72,000 fire outbreaks so far this year, an 84% increase on the same period in 2018, according to the country's National Institute for Space Research. More than half of them were in the Amazon.