Details

The favourite presidential candidate of Brazil made clear promises: he will abolish the ministry of environment, cancel the environmental legislation, open indigenous land to mining, abandon the Paris Agreement and pave a highway in the middle of the Amazon, to open it to cattle ranching. His intention are clear: he will wipe out the Amazon forest.That man is Jair Bolsonaro, who just received 46% of the vote last week.
Details

As world leaders and conservationists descended on London last week for the Illegal Wildlife Trafficking Conference, the burning question in their minds was: How can trade in ivory, especially in Asian countries be contained? The fear is that Africa's elephants could go the way of dinosaurs. Some 20,000 jumbos are killed each year — 55 every single day — mostly for the illegal ivory trade.
Details
The CEIBA Biological Centre (CEIBA), in Madewini, Guyana, under its executive director Dr. Godfrey Bourne, is investigating the impact of global warming on tropical ectotherms, namely, butterflies and lizards, whose body temperatures are determined by the environment. They also found that the postman butterfly maintained "relatively stable temperatures during fluctuating" outside temperatures.
Details

Greenpeace investigation has exposed how the world's biggest brands are still linked to rainforest destruction in Indonesia. Palm oil suppliers to the world's largest brands, including Unilever, Nestlé, Colgate-Palmolive and Mondelez, have destroyed an area of rainforest almost twice the size of Singapore in less than three years, according to the report.
Details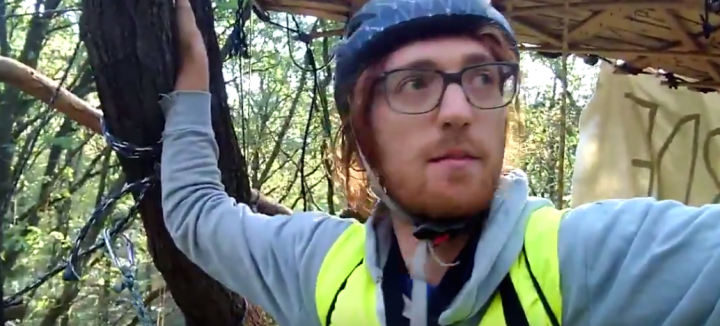 He died trying to protect the ancient forest of Hambach, in Rhine-Westfalen. Steffan M was a young reporter documenting the resistance by activist against the project to remove the forest and develop a large coal mine. He fell from a suspension bridge over 20 meters high in Beechtown and died". In the previous days, the German police attacked the activists to evict them and to destroy the house-trees build to protect the trees. Footage by video news agency Ruptly showed police engaging in violent confrontations with activists, with those who refused to leave the forest being hit, pushed and dragged down a hill. "The police are attacking and people are defending themselves," retorted Karolina Drzewo, a member of anti-strip-mining group Ende Gelaende.