Illegal logging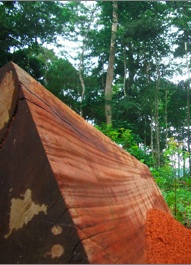 Illegal logging is one of the main causes of deforestation and causes considerable environmental damage and biodiversity loss. It has serious implications for climate change, often ignores the rights of indigenous people, and make forests more vulnerable to fires. 
Illegal logging is the harvest, transportation, purchase or sale of timber in violation of laws. The harvesting procedure itself may be illegal, including using corrupt means to gain access to forests; extraction without permission or from a protected area; the cutting of protected species; or the extraction of timber in excess of agreed limits.
According to OSCE, illegal logging imoves around 150 billion USD annually. It is estimated that illegal logging in public lands alone causes losses in assets and revenue in excess of 10 billion USD annually.
A significant proportion of timber from certain countries currently sold in the EU is thought to come from illegal sources.
Illegal logging contributes to deforestation and by extension global warming, causes loss of biodiversity and undermines the rule of law. These illegal activities undermine responsible forest management, encourage corruption and tax evasion and reduce the income of the producer countries, further limiting the resources producer countries can invest in sustainable development. Illegal logging has serious economic and social implications for the poor and disadvantaged. Furthermore, the illegal trade of forest resources undermines international security, and is frequently associated with corruption, money laundering, organized crime, human rights abuses and, in some cases, violent conflict. In the forestry sector, cheap imports of illegal timber and forest products, together with the non-compliance of some economic players with basic social and environmental standards, destabilise international market
With illegal and destructive logging, food supplies are gone and sacred sights are damaged. Rivers and streams become muddied and polluted, killing local reefs and fish stocks. People suffer violence and abuse. New diseases spread and the medicines, which once protected people from illness, are lost. The traditional ceremonies, skills and way of life are disrupted. Communities' subsistence lifestyle supported by the forest for thousands of years turns to poverty overnight.
Details

Thousands of Romanians marched in the capital Bucharest and other cities on Sunday in protest against widespread illegal logging, which is believed to be behind the deaths of two forest workers in the past two months. In downtown Bucharest, an estimated 4,000 people marched toward the water and forest ministry, according to local TV stations, banging drums and chanting "Our forest is not your commodity," and "Thieves."
Details

Six Romanian rangers have now lost their lives in recent years, two of them in the last month.
Forest ranger Liviu Pop was shot dead in Maramures, Romania last week responding to a tip-off about illegal logging. This follows the recent axe murder of ranger Raducu Gorcioaia near an illegal logging site in Pascani. Six Romanian rangers have now lost their lives in recent years, two of them in the last month.
Details

L'economia forestale di Myammar è ancora fortemente segnata dall'illegalità. Durante i primi nove mesi dell'anno fiscale 2017-18 le autorità hanno confiscato circa 36.000 tonnellate di legname, incluse oltre 7.000 tonnellate di teak e 29.000 tonnellate di altri legni duri. Si tratta di una quantità enorme di legname, considerando che per l'anno in corso il Myanmar National Timber Enterprise (MTE) prevede di raccogliere 15.000 tonnellate di teak.
Details

The result of a system vulnerable to frauds, 41% of the timber exploited in the Brazilian state of Mato Grosso is in unauthorized areas. This is the conclusion of a study carried out by the Instituto Centro de Vida (ICV), which mapped the activity based on satellite images collected between August 2013 and July 2016 and compared them to the authorizations to exploit the material. The study shows that 195,600 hectares of Amazon forest were cut down in illegal exploitations in the period. The total area is equivalent to the cities of São Paulo and Belo Horizonte together.
Details

An Environment Ministry ranger, a Military Police officer and an employee of a conservation organisation have been killed in a shootout with other Cambodian authorities near Mondulkiri's border with Vietnam. The three were in a routine forest patrol in the Mondulkiri's Keo Seima Wildilife Sanctuary, to document and contrast the flourishing illegal trade that occurs in particular at the border with Vietnam, with the collaboration of corrupt militar.