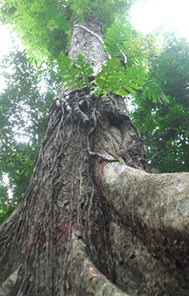 Rainforest News is an independent observatory on natural forests. Our aim is to protect world natural forests.
Forests are the air, the soil, the climate.
Without the forests, indigenous peoples have no home, animal species become extinct, the climate gets hot, soils become desert.
Without the forests, none of us has any future.
The natural forests are disappearing, threatened by unscrupulous companies looking for natural resources such as wood, minerals and crops for the international markets.

It's not too late. We are still time to save them.
In distant lands, all over the world, forest peoples are fighting to protect their world and our future. Environmental organizations, indigenous peoples, villagers, local communities, human rights groups, scientist, unions, peasant associations...
Rainforest News
disseminate their voice and their studies. It analyzes the causes of forest destruction, and promotes innovative proposals for a responsible use, in order to explore creative approaches and new models of development, fully respectful of forests, the life they host, the forest communities and their social values.
Rainforest News is part of international networks such as Taiga Rescue Network, Forest Movement Europe, Global Forest Coalition and the Shrink campaign.

All names, images, logos and trademarks are property of their respective owners. The original content produced for this site are published under the
Creative Commons Attribution-Noncommercial-Share Alike 2.5 License
.