Indigenous peoples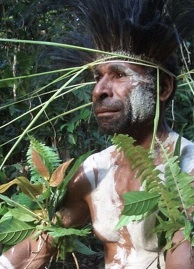 Forests supports hundreds of indigenous cultures and creatures found nowhere else in the world. They ensure the survival of 1.2 billion people;
Hidden treasures: The forests provide food, fiber, medicines.

World forests are home to tribal people who rely on their surrounding for food, shelter, and medicines. Today very few forest people live in traditional ways; most have been displaced by outside settlers or have been forced to give up their lifestyles by governments.

Of the remaining forest people, the Amazon supports the largest populations, though these people too, have been impacted by the modern world. While they still use on the forest for traditional hunting and gathering, most Amerindians, as these people are called, grow crops (like bananas, manioc, and rice), use western goods (like metal pots, pans, and utensils), and make regular trips to towns and cities to bring foods and wares to market. Still these forest people can teach us a lot about the rainforest. Their knowledge of medicinal plants used for treating illness is unmatched and they have a great understanding of the ecology of the Amazon rainforest.

In Africa there are native forest dwellers sometimes known as pygmies. The tallest of these people, also known as the Mbuti, rarely exceed 5 feet in height. Their small size enables them to move about the forest more efficiently than taller people.

In Papua New Guinea unique and isolated communities, with over 800 language groups just in Papua New Guinea alone, have lived for generations alongside some of the world's greatest biodiversity.
Details
Antonio Treuquil was a werkén, the traditional Mapuche spokesperson, in the We Newén community. Mapuche indigenous people are in a longstanding conflict with the forest industry that grabbed most of their land during the dictatorship. Also the We Newén community is involved in a land dispute over traditional territories, with the pulp and paper company Arauco. 
Details

Brazil's President, Jair Bolsonaro, made the provocative nomination of Ricardo Lopes Dias to head FUNAI, the Brazilian government body that establishes and carries out policies relating to Indigenous Peoples. Dias' nomination appears threatening. Any contact with outsiders exposes isolated Indigenous Peoples to the risk of disease and violence. Dias – an evangelical pastor – has been connected with the proselytising activities of the New Tribes Mission of Brazil (MNTB), a North American missionary organisation. As head of this department, he will have access to geographical information about more than 100 'voluntarily isolated' peoples.
Details

One month ago Pualino Guajajara, leader of the "Forest Guardians" was killed,  together with a relative, by gunmen Brazil's Maranhão state. Yesterday two indigenous leaders of his tribe have been shot dead and two others wounded. The attack on the members of the Guajajara tribe, which is known for the forest guardians who protect their territory against illegal deforestation, occurred on the margins of a federal highway near El-Betel village in the country's north-east on Saturday.
Details

A 15-year-old indigenous boy has been murdered in
Brazil
on the edge of a heavily deforested indigenous reserve in the state of Maranhão, on the fringes of the Amazon. The murder, the fourth from the Guajajara tribe in recent weeks, came as a wave of racist abuse against indigenous people swept social media in the state.The Indigenous Missionary Council(CIMI), a non-profit group
reported
that Erisvan Soares Guajajara's body was found with knife wounds on Friday in Amarante do Maranhão. The group said he had travelled to the town, on the edge of the Araribóia indigenous reserve, with his father. The G1 news site
reported
that a non-indigenous man called Roberto Silva, 31, was also killed with Erisvan and that both died in the early hours of Friday at a party in an area called Vila Industrial.
Details
Illegal loggers in the Amazon ambushed an indigenous group that was formed to protect the forest and shot dead a young warrior and wounded another, leaders of the Guajajara tribe in northern Brazil said on Saturday. Paulo Paulino Guajajara, or Lobo (which means 'wolf' in Portuguese), was hunting on Friday inside the Arariboia reservation in Maranhao state when he was attacked and shot in the head. Another Guajajara, Laercio, was wounded but escaped, they said.