Details

Forest degradation in the northern Mediterranean is being driven mostly by a lack of land management and wildfires, while forests in the south-east suffer from overexploitation for firewood, overgrazing and population pressure – potentially triggering a range of economic, social and environmental problems, according to the State of Mediterranean Forests 2018, from the Food and Agriculture Organization (FAO) and environment agency UNEP.
Details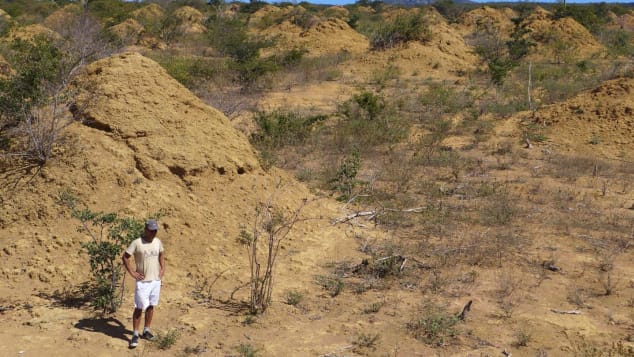 Researchers have discovered a gigantic complex of 200 million termite mounds in northeastern Brazil, which may be up to 4,000 years old and covers an area about the size of Great Britain. Although visible on Google Earth, the conical mounds, some of which rise up to 10 feet high, are largely hidden from view at ground level in semiarid, thorny-scrub forests, according to research published this month in Current Biology.
Details
Greenpeace says six of its activists boarded a tanker transporting Indonesian palm oil in the Gulf of Cadiz and were detained by its captain after unfurling "Save our Rainforest" and "Drop Dirty Palm Oil" banners. A ship tracking website shows the Stolt Tenacity, which Greenpeace says is carrying palm oil from Wilmar International linked to tropical forest destruction in Indonesia, was bound for Rotterdam.
Details

A long article posted in the web portal  
Mongabay
 reports about the wave of land-grabbing and violence caused to produce pulp for global tissue brands. For decades, dozens of families lived peacefully in the small traditional community of Forquilha (pronounced Fork-quill-ya) in the Cerrado, Brazil's vast savannah biome. As is typical in rural Brazil, the homesteaders lacked land deeds, leading a subsistence lifestyle, in tune with the seasons, annually planting crops and raising animals.
Details

Over 120 groups from about 30 different countries have signed the position statement "The Biomass Delusion", declaring the use of forest biomass for renewable energy to be a false solution for climate change mitigation. The broad NGO coalition, which includes organizations such as Greenpeace, NRDC, BankTrack and the Federation of Community Forest Users in Nepal, calls for an end to all finance, subsidies and policy support for large scale bioenergy.