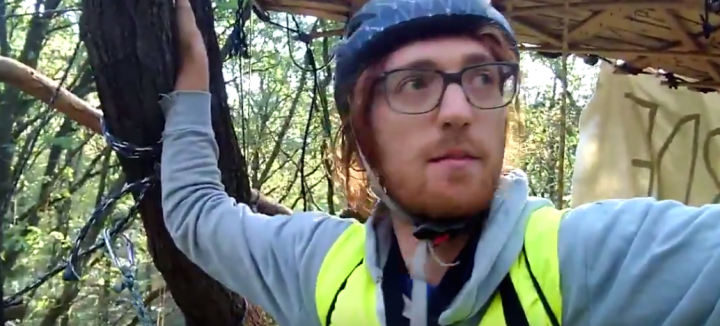 He died trying to protect the ancient forest of Hambach, in Rhine-Westfalen. Steffan M was a young reporter documenting the resistance by activist against the project to remove the forest and develop a large coal mine. He fell from a suspension bridge over 20 meters high in Beechtown and died". In the previous days, the German police attacked the activists to evict them and to destroy the house-trees build to protect the trees. Footage by video news agency Ruptly showed police engaging in violent confrontations with activists, with those who refused to leave the forest being hit, pushed and dragged down a hill. "The police are attacking and people are defending themselves," retorted Karolina Drzewo, a member of anti-strip-mining group Ende Gelaende.

Regional broadcaster WDR reported that between 3,500 and 4,000 police were on the scene to clear some 60 treehouses, some as high as 25 meters (82 feet) off the ground, where dozens of protesters are holed up. Pictures shared on social media showed police riot vehicles and a water cannon also heading to the area.
The clashes come after an estimated 4,000 people organized a mass protest against the expansion of a coal strip mine in western Germany, and marched towards the woodland between Cologne and Aachen.

On Sunday, nine environmental activists were injured and 34 detained as part of the operation to remove dozens of treehouses, some as high as 25 metres (80 feet) off the ground.The occupation began in 2012 and had until now been quietly tolerated. But local authorities have now ordered the woods to be cleared immediately, citing fire hazards.

German police have so far arrested 34 activists who had hidden themselves in trees and tunnels in the Forest in an attempt to stop energy giant RWE from clearing the woods so it can start mining coal, authorities said late Saturday. Nine of those removed suffered injuries during the operation in Hambach Forest. Additionally, 62 people were ordered to leave the area, according to a police spokesperson from the nearby city of Aachen.


The German authorities have temporarily halted an operation to evict protesters, holed up in forest treehouses to block the expansion of an open-pit coal mine, after the death of a j
They also tweeted that they were "deeply shaken" and went on to call on the police and energy giant RWE, which owns the site, to "leave the forest immediately and stop this dangerous operation".