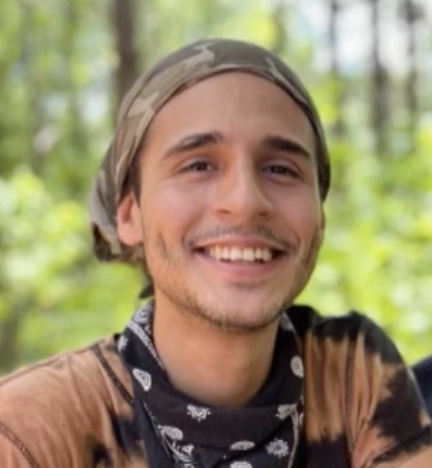 Manuel Esteban Paez Teran, called Tortuguita, 26, was killed during a raid targeting the controversial site of an Atlanta police training facility is defending his friend as someone who was not violent. The Georgia Bureau of Investigation identified them Thursday as Manuel Esteban Paez Teran, 26.
Tortuguita was shot and killed by Georgia State Patrol troopers after investigators said they shot a trooper without warning. But something doesn't add up. In an interview from an encampment in the Atlanta forest last year, a protester identified only as Tortuguita—Spanish for "little turtle"—explained how nonviolence would pave the way for them to successfully stop "Cop City," a proposed $90 million police training facility slated to be built across 85-acres of dense woodland.
"We get a lot of support from people who live here, and that's important because we win through nonviolence," Tortuguita, who used they/them pronouns, told journalist David Peisner for a feature published in Bitter Southerner in December and updated this week. "We're not going to beat them at violence."
On Wednesday morning, Atlanta police shot and killed Tortuguita during a SWAT operation to clear a protest camp, where self-described "forest defenders" have been gathered for more than a year. Law enforcement officials claim that Tortuguita—a 26-year-old whose birth name was Manuel Teran—refused to exit their tent and shot first, leading officers to return fire. Police reported that one officer was struck by gunfire, and was recovering at a local hospital. But organizers of the "Stop Cop City" movement have expressed skepticism about the official narrative. Teran wasn't known to own a gun or carry one in the forest, they told The Appeal. They have demanded an independent investigation and called for the release of body camera footage of the incident.
Teran's killing follows months of escalations by police against Stop Cop City protesters, which have sparked a series of tense, sometimes fiery confrontations in the forest. Last June, police showed up to a Stop Cop City demonstration with guns drawn and proceeded to arrest both protesters and uninvolved bystanders. Organizers reported that police activity in the forest had become more frequent and heavy-handed in recent months, often leading to violent detainments. Protesters say police have used tear gas and rubber bullets on forest defenders, including so-called "tree sitters" camped on platforms suspended far off the ground. In December, authorities arrested five protesters at the camp and charged them with "domestic terrorism"—charges that can carry a prison sentence of up to 35 years. Seven more protesters were hit with domestic terrorism charges this week in a wave of arrests following the shooting. Organizers say activists and their families have also faced growing harassment by law enforcement outside the protest camp, including at their homes.
In a statement sent to journalists this week, Stop Cop City ATL portrayed Teran's death as a tragic culmination of increasingly aggressive law enforcement tactics. "Police are the ones entering the forest with firearms and threatening to shoot," the statement reads. "They've been doing this routinely for months. It's sadly no surprise that eventually they would hurt someone."