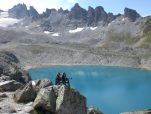 ""We only have water for two hours each day!" This is the desperate outcry from the Peruvian city of Cajamarca. The people there are demonstrating against the extension of Latin America's largest gold mine which is destroying their natural water sources. An important headwater stream of the Amazon is also at risk. However, the mining company Yanacocha and even the Peruvian government is using brute force to suppress the peaceful protests. 
A field trip by the Rainforest Rescue found that water is heavily polluted by huge amounts of highly toxic substances such as arsenic, cadmium and lead. This is why the people in northern Peru are protesting for their right to sufficient clean water – they need it to survive.

In the late fall of last year international protests were able to stop the Conga project for the time being. Now once again the violence is used against the people. "The military was firing gas bombs in the middle of the town centre, hitting children, women and passersby", an eyewitness from Cajamarca tells.  

This mine is situated at important river heads and lagoons which provide water for Cajamarca, but also for the Amazon basin. The mining is depriving the people of their water and is contaminating it with cyanide and heavy metals.

President Ollanta Humala's government has declared a state of emergency for three provinces and is using force to suppress protests. Five people were shot dead by the military, among them two minors. Numerous others were seriously injured and randomly arrested.  

Support the people of Cajamarca and their right to water. Sign the petition directed towards the Peruvian government and the World Bank as one of the shareholders of the mining company Yanacocha.