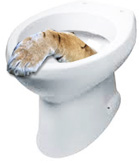 The tropical rain forests on the Indonesian island of Sumatra are like nowhere else on Earth. Located on the Equator, Sumatra's rich and diverse forests are home to orangutans, Sumatran rhinos and critically endangered Sumatran tigers. Unfortunately, some of these forests are being threatened by unsustainable clearing and conversion for pulp and paper products, like toilet paper and tissue, for the U.S. market and elsewhere.
In 2009, people in North America consumed about 80 million tons of paper. But not all tissue and paper towels are made from responsible sources. According to WWF report Don't Flush Tiger Forests: Toilet Paper, U.S. Supermarkets, and the Destruction of Indonesia's Last Tiger Habitats, the fastest growing brand of toilet paper in the United States today, Paseo, has a direct link to rain forest destruction. Paseo toilet paper and tissue products are made from pulp from the Sinar Mas Grouo's Asia Pulp & Paper (APP).
Over the past 25 years, APP, its affiliates and suppliers have clear-cut 5 million acres of Sumatran forest wood, WWF estimates. Much of that land was once tiger and elephant habitat. Even when toilet paper is made from pulpwood plantations rather than rain forest fiber, those plantations often are planted on tiger forests recently clear-cut and converted.
Since 1985, WWF analyses found more than half of Sumatra's natural forests - some 30 million acres - have been lost, much of that due to forest conversion to pulp plantations for paper.
WWF supports sustainable and responsible pulp and paper production in Indonesia and the use of paper products made with fiber from plantations established on truly degraded lands, which are not viable as forest or wildlife habitat.
Many conservation and civil society groups - including WWF - have drawn attention to the Sumatra deforestation issue. In response, U.S. companies are increasingly creating policies to avoid purchasing products using fiber linked to destruction of priceless forests, such as tiger habitats in Sumatra.
WWF suggests to comsumers to make responsible buying decisions:
Don't buy Paseo products and ask your grocery store not to carry them.
Sign a pledge to buy FSC-certified paper or products with 100% recycled content.
Ask grocers, retailers, hotels, and restaurants if they know the forest source of the products they carry, have a responsible paper-sourcing policy, and if they will carry more FSC-certified and recycled-fiber paper products.